Welcome to 2222 Veterinary Clinic
Your Veterinarian in Austin TX
Call us at (512) 276-2633

Pet Emergency? Call us right away at (512) 276-2633!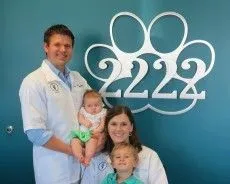 Modern medicine with old fashioned, compassionate care is the philosophy of the staff at the 2222 Veterinary Clinic. This full service veterinary medical facility is located in the Shops at River Place at the corner of River Place Blvd and Ranch Road 2222, across from the 3M Austin Center.
The 2222 Veterinary Clinic with its professional and courteous staff seek to provide the best possible medical, surgical, and dental care for your loved one. Please take a moment to contact us, to learn about our veterinary practice, schedule a tour of our facilities or find out more about how the 2222 Veterinary Clinic can serve you and your cherished pet.
The owners of the practice, Drs. Frank and Mindi Metzler, strive to make this a family oriented practice. From the kid friendly environment to the teal on the walls (their wedding color), you will find this practice is an extension of their family. They look forward to welcoming you and your treasured pets into their extended home.
At 2222 Veterinary Clinic, we treat your pets like the valued family members they are.
Drs. Frank and Mindi Metzler
Austin Veterinarian | 2222 Veterinary Clinic | (512) 276-2633
10601 FM 2222 SUite J
Austin, TX 78730 1134